Media
Breast Assessment Unit celebrates another academic achievement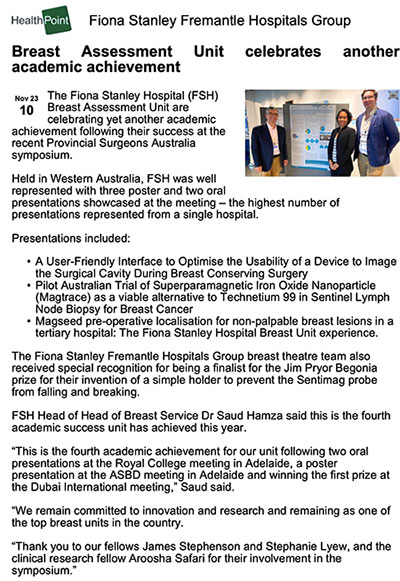 The Fiona Stanley Hospital (FSH) Breast Assessment Unit are celebrating yet another academic achievement following their success at the recent Provincial Surgeons Australia symposium.
Held in Western Australia, FSH was well represented with three poster and two oral presentations showcased at the meeting – the highest number of presentations represented from a single hospital.
Breast Cancer Training - at the Paris Breast Centre

Breast Cancer - Dr. Saud Hamza In the News

Cancer Tracer - Dr. Saud Hamza In the News
Congratulations Dr. Alexander Armanios
Dr Saud Hamza, Head of FSFHG Breast Dept, Oncoplastic Breast Surgeon, pictured with team member Dr Alexander Armanios, in Dubai.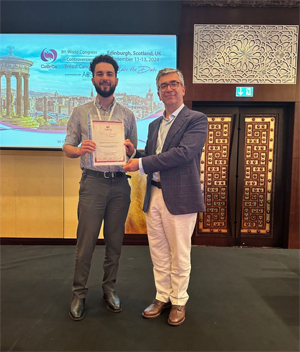 Congratulations to Fiona Stanley Hospital (FSH) medical intern Dr Alexander Armanios, who recently won the Young Scientist Award at the 7th World Congress on Controversies in Breast Cancer meeting in Dubai!
aking out the award for his audit on the FSH Breast Centre Breast Reconstruction Practice, Dr. Armanios was competing against US, UK and UAE presentations.
As the only intern at the conference, this is a fantastic accolade for Dr. Armanios and FSH. Congratulations!
St John of God Murdoch Hospital equipped for state-of-the-art breastcare surgery
Patients undergoing breast cancer surgery at St John of God Murdoch Hospital are receiving first-class care, thanks to cutting edge technology and techniques.
The Faxitron Trident HD portable mammogram machine has been commissioned at St John of God Murdoch Hospital.
"The Trident HD allows surgeons to get sharp and detailed images of the breast cancer spot during surgery, which equips us to perform more accurate excisions and means patients spend less time in surgery under anaesthetic. Both factors lead to better recovery," Breast Surgeon, Dr Saud Hamza said.
St John of God Murdoch Hospital's Trident HD was one of just four dispatched to Australia in November 2022.
"We are very fortunate to have secured this prized technology, given the recent overseas freight challenges due to COVID," Dr Hamza said.
The arrival of the Trident HD to St John of God Murdoch Hospital complements cutting edge breast cancer removal techniques being performed by the hospital's breast surgical team.
One such technique is the use of Magseeds technology. Tiny magnetic 'seeds' are implanted into the breast cancer spot under radiology guidance at the precise location of the tumour. During surgery, the surgeon runs a magnetic probe along the outside of the body, which 'detects' the seeds.
Dr Hamza likened the technology to a "metal detector."
"Using Magseeds, we are performing extremely precise, minimally invasive tumour removal - the best possible outcome for patients."
Angela Reyniers, 52, underwent breast cancer removal surgery at St John of God Murdoch Hospital, using the Magseeds technique. Almost three months post procedure, Ms Reyniers is part way through follow-up chemotherapy treatment.
"The Magseeds implant was really straightforward – no discomfort at all – and post-surgery recovery has been great. All things considered, I'm feeling really good," Ms Reyniers said.
A nurse herself, Ms Reyniers, was highly conscious that a repeat excision may have been required if the entire tumour was not removed the first time – an experience she was very much hoping to avoid.
"The precision of the Magseeds technology, paired with Dr Hamza's expertise and good judgement, ultimately resulted in clear margins (and no need for further surgery) – which is all that I could have hoped for. I'm feeling very grateful and positive about the road ahead."
Encouraging our community to get screened this Breast Cancer Awareness Month
Did you know a staggering one in seven women will have breast cancer within their lifetime? This sobering fact means it is the most commonly diagnosed cancer in women and the second leading cause of cancer death in Australian women.
New breast cancer multidisciplinary team launched in Mandurah
Breast surgeon Dr Saud Hamza said the launch of the team was "great news".
Breast cancer patients in Mandurah will have better access to a range of necessary services, after a multidisciplinary team was launched on Thursday.
Seven News
A new trial has found a revolutionary weapon to help fight breast cancer; a WA hospital is leading the charge, making it easier to locate hard to find tumours. HAMZA/LINDORFF/ROBERT/BRADSHAW
Sunrise Perth News
One in 7 Australian women will be diagnosed with breast cancer; a new trial has identified a weapon that can be used to fight the disease. HAMZA/LINDORFF/BRADSHAW